Contact
E-mailinfo@westlandhortitours.nl
Phone+31(0)6 199 339 34
OfficeMonday till Friday 09:00 to 17:00 pm
ToursMonday till Friday 08:00 to 17:00 pm
C.o.C.63 01 11 07
RSIN855 05 34 83
BankaccountNL19 RABO 0302 9953 15
VATNL855053483B01
Managing board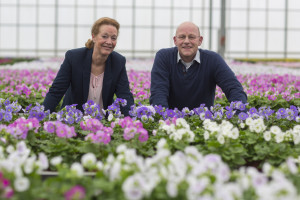 Aad Verduijn and Wilma Verkade form the board of Westland HortiTours, part of Westland Toerisme.
Aad Verduijn
"I have over 40 years of experience in the horticultural technology. I know the entrepreneurs in this dynamic sector and the technical innovation in this sector fascinates me enormously. It is always a quest to know how to culture better, faster, healthier, more economical, energy efficient and environmentally friendly. I lead my guests around with great enthusiasm and let them discover the innovative world of the Westland".
Wilma Verkade
"As the daughter of a breeder I have developed a lot of love for horticulture ever since I was young. With Westland HortiTours I like to promote this dynamic region. With much pleasure I take care of the planning and organisation of the guided tours. I am your contact person".
Westland HortiTours is part of Westland Toerisme
Copyright © 2018 – All rights reserved – Disclaimer – Privacy Statement – SD Communicatie