News
Westland Horti Tours goes international
Aad Verduijn has made his French TV debut. A short educational tour at Leen Middelburg Chrysanten.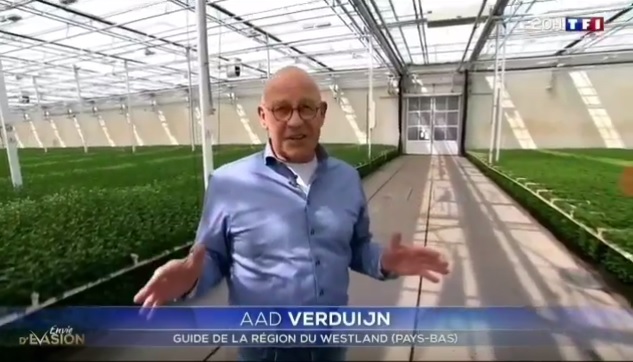 Tour primary school students
The kids found it fascinating. All that color they saw at Leen Middelburg Chrysanten. Let's hope that some of them have become so enthusiastic that they later choose to work in the dynamic world of horticulture.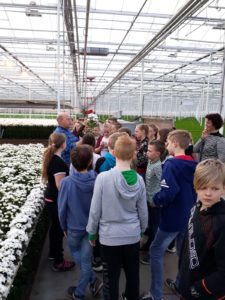 World Horti Center
We provide many guided tours in the World Horti Center. This time two groups from Korea.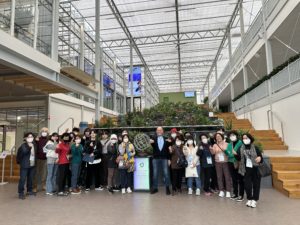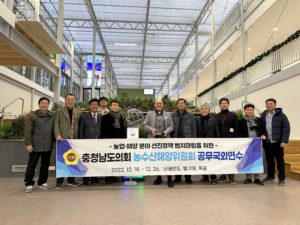 Tour at SV.CO
Here is the photo of a group of enthusiastic Koreans that we were allowed to show around at SV.CO.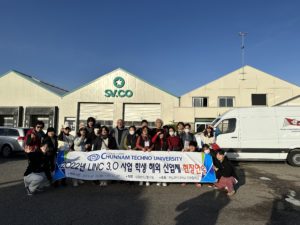 Tour Priva 
We also provide guided tours at suppliers in the horticultural sector. This time a tour at the beautiful company of Priva.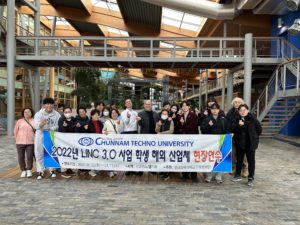 French students visiting
An enthusiastic group of French students were given a tour of Fransen Roses in De Lier. They enjoyed the beautiful roses (including Red Naomi) and the information from guide Aad and translator Marion.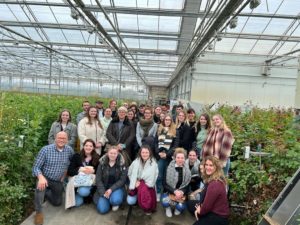 Radio report
NPO radio 1 visiting Leen Middelburg Chrysanten.
On the picture from left to right: Aad Verduijn (WHT), Mai Verbij (radio 1) and Sander Middelburg (LMC).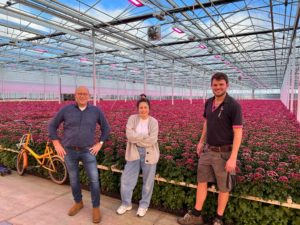 Guided Tour and a little drive
A few managers of Florensis went on a little tour through the Westland and at the end of the afternoon they get a tour at Leen Middelburg Chrysanten.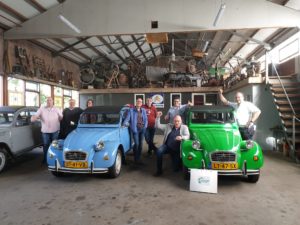 Online tour to 40 Korean teachers
At the request of Agriconsulting Grow, Aad Verduijn gave an online tour at Leen Middelburg Chrysanten. 40 Korean teachers watched. It was an interesting morning. More online tours are planned later in the year.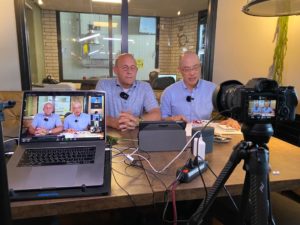 Informative tour about the different water systems
We received this enthusiastic email below from the two students of ArtEZ University of the Arts. 
"Aad Verduijn gave us a clear tour of the greenhouses in Westland. We came to him with a clear question: how is water managed in greenhouse horticulture? Aad told us about the different water systems, which he demonstrated at each greenhouse. He put us in touch with various growers, to whom we could ask many questions. A fantastic day! We learned a lot about water use in the greenhouse!"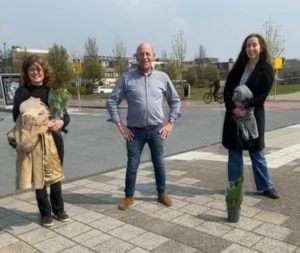 Mayar Bouke Arends
The Mayar of the Gemeente Westland Bouke accompanied us on a working visit to the three disciplines of greenhouses horticulture: Vegetables, potted plants and flowers.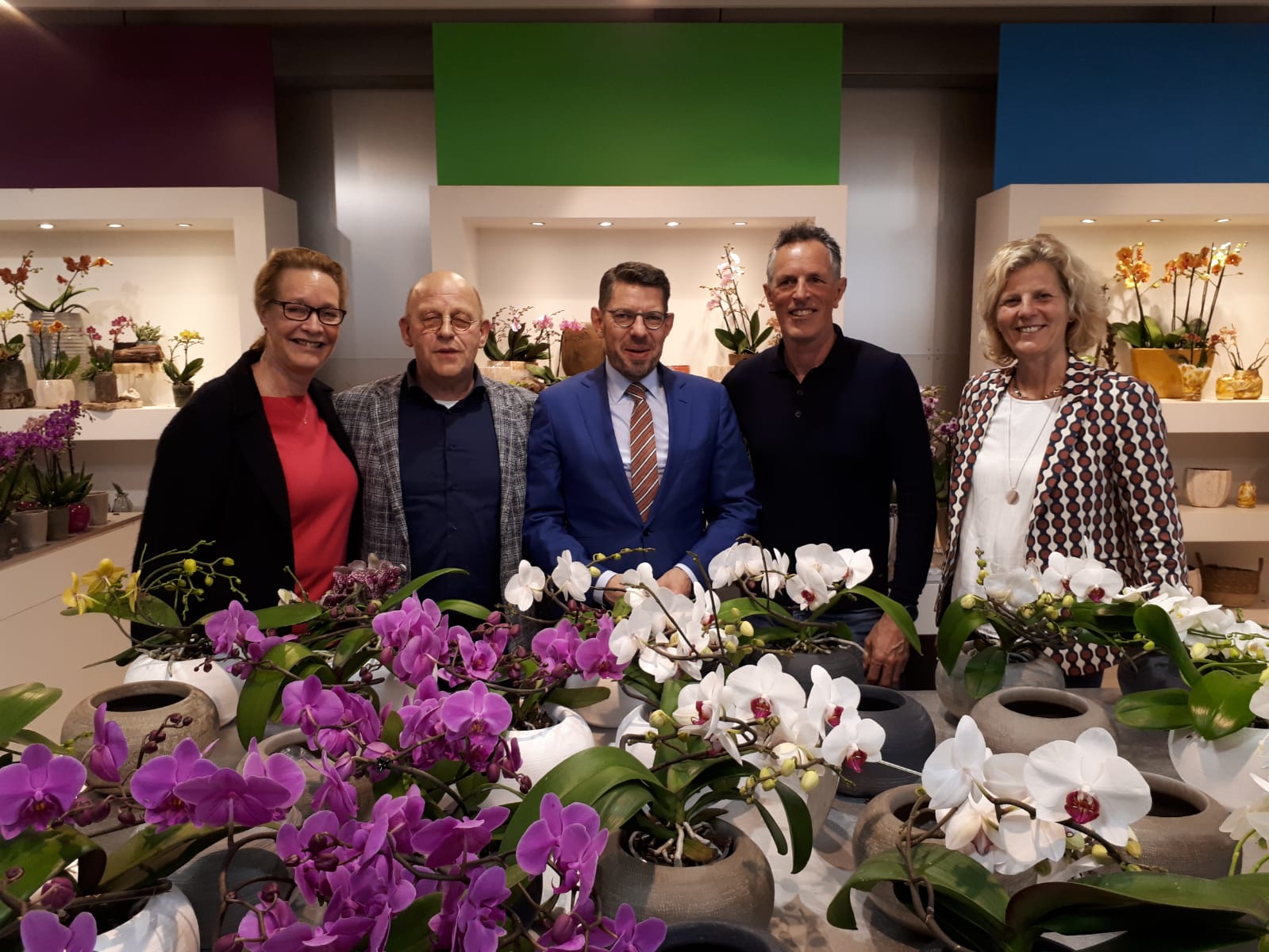 3-days program 
For the investment company Watanabe Green Division from Japan we made a special 3-days program.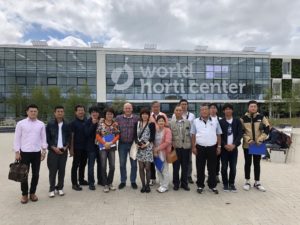 Visitors of the Gemeente Westland
For the Gemeente Westland we arranged several guided tours for visitors from Japan at Lans, Greenpack and Tomatoworld.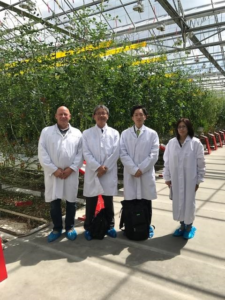 Visit teachers Cyprus
For the Organization PEM GmbH from Germany we organized guided tours for a group of teachers from Cyprus at Lentiz school Naaldwijk, Lans tomatoes and the Demokwekerij.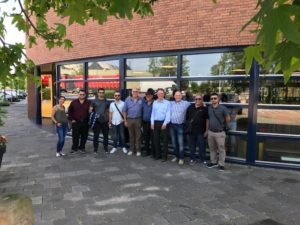 Visit IVA-MICE Ukrain
For the Organization IVA-MICE, we arrange a daytour for a couple into the Dutch horticulture.
'On behalf of our clients and our company I would like to thank you and your colleagues for organizing a wonderful business-tour to the companies in Westland specializing on Greenhouse Horticulture! According to our clients'feedback, they are impressed and excited with the tour and information they obtained. I appreciate very much your help, care and reliability and look forward to cooperation on the future projects!' Inna Kosoriga
Visit N-Agro Nepal
At the request of Wageningen University and Research Centre, we have make it possible that the Executive Board of N-Agro from Nepal has a conversation with Global Green Team and shown them around at Green pack.
'I would like to thank you for the very successful visit to Global Green Team, and Green pack. The N-Agro from Nepal were particularly impressed by Global Green Team and Green pack, both in terms of the way in which marketing, products are made and the organisation. Very educational! At the post-performance discussions gave it much material for discussion and revealed how meaningful this visit for the group. Eventually it went to visit the owners/managers of N-Agro which together decide on the future of their business and this kind of visits help very much.'
Martien Beek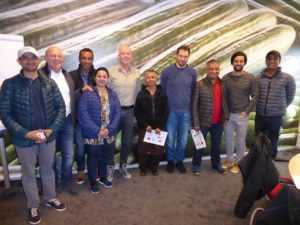 Visit Certhon
We have customers from Russia of the company Certhon shown around at Tomatoworld, Lans and Green pack.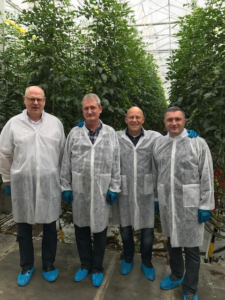 Visit Ludvig Svensson B.V. Climate Screens
At the request of LSvensson from Hellevoetsluis we take two colleagues from the United States into the Dutch greenhouse horticulture. They have a daytour at Royal FloraHolland, Lans, SVco, Ter Laak and LMC (Zentoo). And they have a visit to the windmills at Maasland.
'I don't think I can actually express my thanks to you for today. I learned SO MUCH I'm very greatful. Your kind patience and openness was beyond my expectations for today.' James Gomm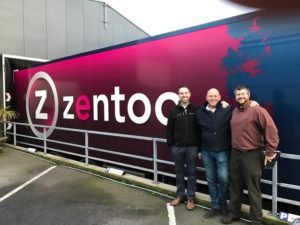 Visit Gadot Israel
For the Gadot Group company from Isreal we shown Mr. Shlomo Glidai and Mr.Guy Atzmon a daytour at Royal FloraHolland, Lans, Greenpack, LMC and Solisplant.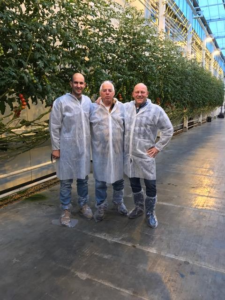 Visit Minister of Agriculture from Azerbaijan to the Westland
Minister of Agriculture in Azerbaijan, Heydar Asadov, and his delegation visited the Westland. Commissioned by the Ministry of Economic Affairs in Holland, Westland Horti Tours arranged a special guided day-tour guided by Aad Verduijn. In the morning the delegation had a tour at Certhon Greenhouse solutions and after that the group payed a visit to Greenpack, Europe's largest packaging and distribution centre of vegetables. They also payed a visit to Lans, nursery of tomatoes in Maasdijk. Lunch was eaten at Unicum Waterweg with a view of the harbours of Rotterdam and Nieuwe Waterweg. In the afternoon the delegation left for a tour at Priva, explaining sustainable climate control. In addition they visited Rijk Zwaan for an explanation of seed breeding. Furthermore the delegation visited WUR Plant research in Bleiswijk and Delphy, a practice centre with training facilities.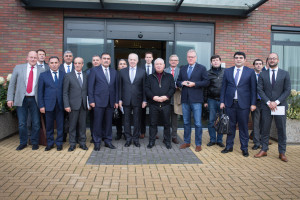 Westland Horti Tours promotes Dutch horticulture and horticultural suppliers with these guided tours.